Historical overview

Company's activity beginning goes back to more than thirty years, where the company began its activity with the quarries with modern equipments and the work was limited to collecting and sorting operations, and it is established by the late Haj Saad Abdellah.
Business in Brief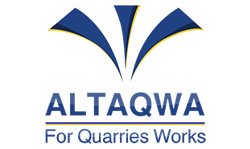 Al-Taqwa Company for quarrying business is an Egyptian company undertakes extracting dolomite rocks and that through the high quality quarrying sites in order to extract high quality products and able to compete in the construction sector and private (Ready-mixed concrete sector and paving high ways operations) where our products meet the measurements and engineering analysis, which depends on the quality f the product in terms of regular shape and hardness which endures the pressures and the gradation of the sizes to create the homogeneity of the mixing process with cement to give the required cohesion strength. Al-Taqwa Company is considered one of the latest companies in the terms of possession of crushing and screening technology in Egypt through owning crushing plants of Metso brand (METSO International brand), which is distinguished with the high capacity in the crushing operation and the highly productivity, which enables the company to meet the demands of its clients at all levels. The company also owns the giant hydraulic crushing equipments in the extracting process that enables the company to extract the high quality thick layers which is free of impurities and dust.
Vision
Al-Taqwa company aims t become one of the leading companies in the field of quarries and breakers business and that is through providing high quality products to the construction sector in general.
Mission
Al-Taqwa Company for quarries business is committed to provide high quality products that meet the quality standards
Al-Taqwa Company is keen on meeting the requirements of its clients and gaining their trust.
Al-Taqwa Company has a strong belief that it has a high capacity in sites and equipments enable them to provide a distinguished product.